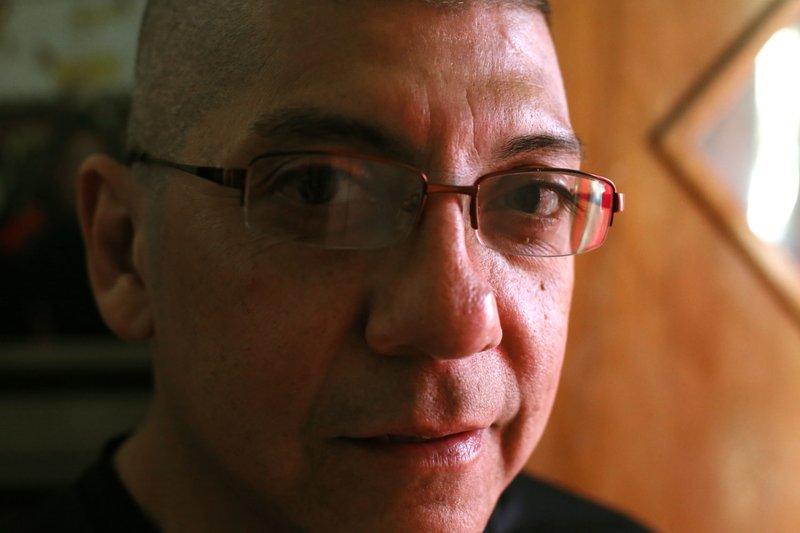 CHICAGO (AP) — While many Americans his age are planning for retirement, Joseph Rodriguez is looking for his first permanent job.
Rodriguez, a 51-year-old Chicago resident, spent 35 years in prison for fatally shooting two people. "I don't have the luxury to even think about that (retirement) since I'm having a late start in my life," he says. "I'm going to have to constantly work until my last breath."
A new survey by The Associated Press-NORC Center for Public Affairs Research found that 69 percent of older Americans who reported having been incarcerated felt anxious about the amount of money they have saved for retirement, compared with 52 percent of those who didn't serve time.
That's in part because they have fewer sources of income. The survey found that older Americans who were incarcerated are less likely to have income from Social Security, retirement accounts or a pension, and are more likely to rely on disability payments.
More than half worry that the money they do have for retirement won't last over their lifetimes. One in four don't plan to retire, about the same as the general population, the poll found.
Mark Mitchell, 59, works for a re-entry program in the west side of Chicago helping former felons find work. Mitchell says planning for retirement is impossible for people like him with a criminal background.
Mark Mitchell, who works for a program on the south side of Chicago helping former felons find work, said ex-cons have trouble finding jobs that pay well and let them to contribute to a retirement. "So if they're not retiring, if they don't have a retirement, who's going to take care of them — the state?" he said.
Rodriguez found temporary work in a factory in Chicago's suburbs a few months after being released in 2016. He earns $10.25 per hour and lives with his sister. He doesn't have money to save for retirement and said he tries not to think about it. In his free time, he said, he looks for volunteer opportunities working with at-risk youth in Chicago's most violent neighborhoods.
The number of inmates age 55 and older has almost quadrupled over the last two decades and is expected to continue growing, accounting for a third of the country's inmate population by 2030, according to the National Institute of Corrections, an agency within the Federal Bureau of Prisons. In 2015, there were 285,000 inmates 50 and older inside state and federal prisons, the Bureau of Justice reports.
Gabriel Eber, senior counsel for the ACLU's National Prison Project, says the government should be helping former felons transition into the community but has failed to do so. He said many nonprofits are trying fill in the gap but the government really needs to "step up to address this problem."
When older inmates are released from prison without money or skills and unable to retire, "the cost of their care is going to trickle down to taxpayers one way or another, and health care consumers," he said.
The survey found that 56 percent of older workers who had served time in prison had been unemployed in the past five years, compared to 17 percent of those who had not.
Victor Morris, 56, was released from jail two years ago. He's had a couple temporary jobs, but nothing stable, he said.
"I don't have no income because I'm not working," Morris said quietly, sitting in the kitchen of his mother's home in Memphis, Tennessee, where he's been living. "I'm a good worker. I'm a hard worker. It's hard to get work because of my background. I go to temporary services and I pass the drug test. Then they do a background check and I don't get the job."
Paul King, who served a seven-month sentence after a fraud conviction in 2011, found himself homeless and jobless. "I had to start again," the 59-year-old Memphis resident said. "It's hard to get a job with a felony. You're rarely given a second chance. You're judged and sentenced over and over again."
King said he wants to work and rebuild his life. "I could start my own business. I have the education and determination," he says. "But my body, because of my age, is not keeping up with my mind."
Paul King, 59, found himself homeless and jobless after serving a seven-month sentence for a fraud conviction. "Save? Save what? Every penny I make is accounted for," he says.
Incarceration also leads to job loss. A third of survey respondents who were incarcerated said they lost a job as a result.
Ruth Finkelstein, associate director for Columbia University's Robert N. Butler Columbia Aging Center, says it's more difficult for older adults to find work after prison because the few opportunities available to them often go to younger workers.
Patricia Tia, 54, has been arrested more than 250 times, mostly on prostitution and drug charges. She now works at HopeWorks, an organization helping people with felonies in Memphis, Tennessee, find employment. "I think that as tired as I am now at the end of the day, there is going to be more times that I'll be a lot more tired because I'm going to have to work until my later years," she said.
She said her husband Frank Holmes, 62, worked odd jobs after spending a total of nearly two decades incarcerated and now receives disability because of years of untreated diabetes. That helps, she says.
Patricia Tia, 54, says retirement wasn't even a concept for her, because she never thought she would live to middle age. She now works at HopeWorks, an organization in Memphis that helps people with felony records find employment.
Mitchell, 59, said planning for retirement for people, like him, with a criminal background is impossible. He said many black men living in poor, high crime neighborhoods with few job opportunities force many to join the illegal and often dangerous drug industry.
"To be honest, I never thought I would live this long," said Mitchell, who has 13 felony convictions for drug and gun charges. "I always figured I'd die before I got to this stage."
The survey was conducted Feb. 14 through March 13 by The Associated Press-NORC Center for Public Affairs Research with funding from the Alfred P. Sloan Foundation. It involved interviews in English and Spanish with 1,683 people aged 50 and older nationwide who are members of NORC's probability-based AmeriSpeak panel, which is designed to be representative of the U.S. population. It includes oversamples of 332 African Americans and 308 Hispanics. Results from the full survey have a margin of sampling error of plus or minus 3.0 percentage points. Interviews were conducted online and using landlines and cellphones.
___
EDITOR'S NOTE — Maria Ines Zamudio is studying aging and workforce issues as part of a 10-month fellowship at The Associated Press-NORC Center for Public Affairs Research, which joins NORC's independent research and AP journalism. The fellowship is funded by the Alfred P. Sloan Foundation.
___
This story has been corrected to show that Mitchell works on south side of Chicago, not the west side.