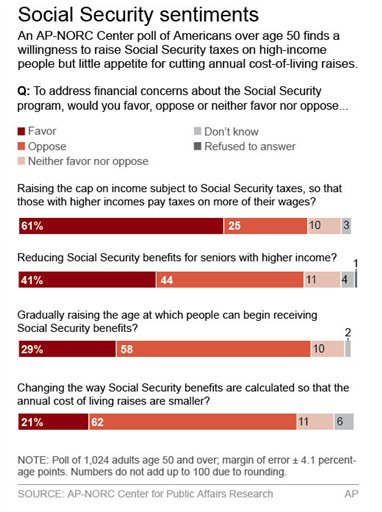 CHICAGO (AP) – Raise the age at which you can begin collecting full Social Security benefits? Older Americans say no. They also veto reductions in the cost-of-living increase.
But a poll finds support among those 50 and older for raising the cap on earnings that are taxed to fund the Social Security program so higher-income workers pay more.
The survey by the Associated Press-NORC Center for Public Affairs Research finds passionate opposition to any change in the way Social Security benefits are calculated that could result in smaller annual raises.
The poll found that 62 percent of respondents expressed opposition to such a proposal, compared with 21 percent who supported it.
The chained CPI, or consumer price index, has been proposed as a new way of calculating the cost-of-living adjustment, but it would reduce raises.
"I really think it's a sacred cow," said Margie Nugent, a 55-year-old farmer from North Umberland, Pa. "They shouldn't touch it."
About the same number, 58 percent, oppose gradually raising the age when retirees qualify for full benefits, while 29 percent support it. About one-third believe people should be eligible for full benefits before 65. Only 10 percent say full eligibility should come after 67, the top eligibility age under current law.
"I contributed to it. It's my money," said Joan McDonald, 65, of Annapolis, Md., who retired as an accountant this year and began collecting Social Security. "The plan was, 'Contribute this and you get this.' You can't change the rules."
Survey respondents showed more willingness to support Social Security proposals that would mostly impact those with higher incomes.
Forty-one percent expressed support for reducing benefits for seniors with higher incomes, compared with 44 percent who opposed the proposal. Whites were much more supportive of reducing benefits for high-earning seniors than minorities.
Changes to Social Security are on the horizon because the trust funds that support the massive retirement and disability program are projected to run dry in 2033. At that point, Social Security would only collect enough taxes to pay about three-fourths of benefits. If Congress doesn't act, benefits automatically would be cut by about 25 percent.
A new round of budget talks underway in Washington could produce proposals to change Social Security.
In previous budget talks, President Barack Obama has proposed adopting the chained CPI, making it one of the few issues on which he and House Speaker John Boehner, R-Ohio, agree. Other groups, including Obama's 2010 deficit commission, have proposed raising the age when retirees can get full Social Security benefits.
Among older Americans, the poll found the most popular idea for improving the program's finances was raising the cap on income subject to Social Security taxes. Currently, the cap is $113,700, meaning those earning more do not pay Social Security taxes on wages above that threshold.
The poll found that 61 percent of people favored raising the cap, compared with 25 percent opposing it. Among Democrats, support was at 73 percent; among Republicans, it was 45 percent.
"If the rich get richer, they should pay," said Rhonda Rossi, 56, of South Bend, Ind. "If they're multimillionaires, they don't need Social Security. They could live off their interest."
Rossi collects Social Security disability benefits of about $950 a month due to kidney failure. Even with that, she struggles to have enough to buy groceries at the end of the month. She says any talk of reducing benefits makes her nervous.
"I got sick and if I didn't have the Social Security, I don't know how I would live, I really don't. I'm struggling as it is now," she said. The politicians don't live day by day like I do."
The AP-NORC Center survey was conducted Aug. 8 through Sept. 10 by NORC at the University of Chicago, with funding from the Alfred P. Sloan Foundation. It involved landline and cellphone interviews in English and Spanish with 1,024 people aged 50 and older nationwide. Results from the full survey have a margin of sampling error of plus or minus 4.1 percentage points.
___
Matt Sedensky, an AP reporter on leave, is studying aging and workforce issues as part of a one-year fellowship at the AP-NORC Center for Public Affairs Research, which joins NORC's independent research and AP journalism. The fellowship is funded by the Alfred P. Sloan Foundation and supported by APME, an association of AP member newspapers and broadcast stations.
___
Follow Matt Sedensky on Twitter at http://twitter.com/sedensky
___
Associated Press writers Stephen Ohlemacher and Dennis Junius, and director of polling Jennifer Agiesta contributed to this report.
___
Online:
AP-NORC Center: http://www.apnorc.org
EDITOR'S NOTE _ Aging America is a joint AP-APME project examining the aging of the baby boomers and the impact that this so-called silver tsunami has had on society